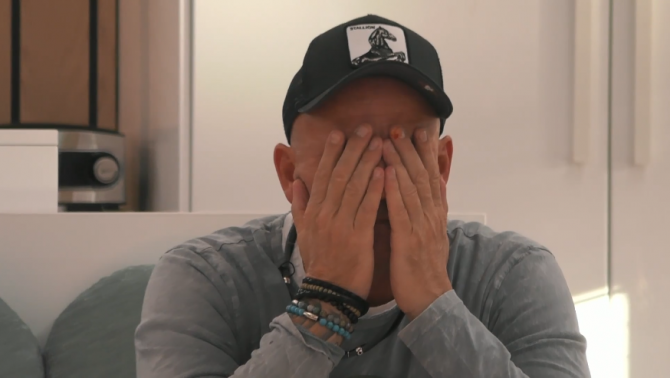 Thomas en Theo hebben het moeilijk
Aan de keukentafel hebben Daniëlle en Theo een gesprek. Het gaat over het thuisfront. Ik. Ik hoop dat ze mij even m'n zoon, en Danielle even haar kinderen laten zien zegt Theo dan. Weet ik niet reageert Daniëlle. Het maakt het niet makkelijker benadrukt ze. En lijkt wat emotioneel te worden en pinkt een traantje weg. Ik mis hem heel erg gaat Theo verder. Daar ik het heel zwaar mee voegt hij eraan toe.b Als ze het me aanbieden, zeg ik nee antwoordt Daniëlle. Als ik alleen z'n glimlach zou kunnen zien verzucht Theo. Daarna wordt hij ook emotioneel, zijn handen gaan voor zijn ogen. Wrijft tranen weg en heeft duidelijk rode ogen.
Ook Thomas heeft het lastig. Dat is ontstaan na de nominaties van gisteren. Hij heeft enkele mede bewoners vertelt dat hij op Jill gestemd heeft en heeft hier achteraf gezien toch erg veel spijt van. Nathalie gaat buiten in gesprek met Thomas. Ze vindt dat Thomas wat stiller is, wat anders is. Niet perse negatief hoor benadrukt ze. Na wat doorvragen krijgt Nathalie uit Thomas dat het komt door de nominatie van Jill. Thomas laat weten dat hij het lastig vindt als iemand zich zo openstelt. Op het moment dat ik de dagboekkamer uitliep wist ik al dat ik een verkeerde keuze gemaakt had. Ik wil het bespreken met Jill, maar pas na de nominaties voegt hij eraan toe. En hoopt uit het grond van zijn hart dat ze niet bij de genomineerden zit. Nathalie vraagt vervolgens of hij denkt dat wat Jill doet vriendelijkheid of flirten is. Thomas antwoordt vriendelijkheid. Nathalie oppert dat het wellicht ook een idee is om te vragen. Zoey mengt zich in het gesprek en vraagt of hij denkt dat het is oprecht is of niet? Thomas weet het niet. Zoey vertelt daarna dat Jill gisteren af en toe opmerkingen in de groep maakte die ongemakkelijk moeten zijn geweest voor Thomas. Thomas is het daarmee eens. Maar dat ligt aan mij benadrukt hij. Later zegt Thomas dat hij vandaag tegen Jill heeft gezegd dat ze ook meer met andere mensen moet optrekken. Om zichzelf zo meer open te stellen. Nathalie en Zoey laten weten dat ze dat vandaag wel gemerkt hebben. Thomas en Nathalie eindigen het gesprek met een knuffel. Nathalie benadrukt dat hij altijd kan komen praten als er wat is.
Iets later heeft de Big Brother stem een mededeling.  Jullie wonen al een tijdje in mijn huis. Ik wil weten hoe jullie je voelen. Jullie mogen een stemmingsmeter invullen. Ik roep jullie 1 voor 1 naar de dagboekkamer. Mocht daar meer nieuws over ontstaan komen we er uiteraard op terug!