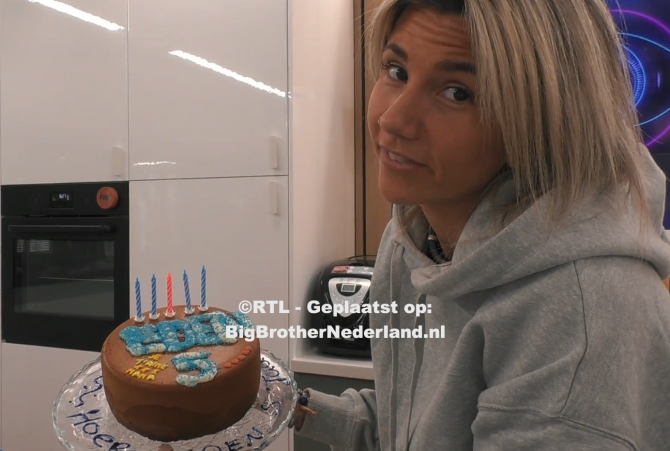 De bewoners weten nog altijd niets over Matt
De bewoners speculeren verder, zou Matt echt 15.000 euro uit de prijzenpot gepakt hebben en zijn verblijf in Big Brother op hebben gegeven? Liese snapt er niets van, het frustreert haar. En Michel laat weten dat Matt zelf al zei dat hij zou twijfelen maar toch voor de finale zou kiezen. Hij zou er wel een reden voor hebben zeker reageert Liese. Jill had het ook niet verwacht. En Michel benadrukt dat hij geen seconde getwijfeld heeft. Al hadden ze 50 geboden. Julie heeft ook veel gehoord dat sommigen het voor het geld deden. Jill gaat nog eens luisteren bij de gameroom maar hoort niks. De bewoners eten wat, spelen een spelletje en kunnen het nog altijd niet geloven. Tijdens een batterijwissel zitten er ook maar zes batterijen in het bakje zo laat Liese weten.
Ondertussen maakt Big Brother wat grapjes, zo spreekt hij Julie erop aan als ze van de pastasaus snoept en vraagt of het lekker is. Nick heeft het over de sauna en vraagt aan Nick of hij in de sauna zou willen. Ja antwoordt Nick, wat is het magische woord vraagt Big Brother. Nick zegt alsjeblieft en Big Brother laat weten dat hij de sauna aan gaat zetten. Julie maakt samen met Jill een taart. Vandaag is namelijk het zoontje van Julie jarig. Eerder vandaag had ze het daar erg moeilijk mee, het lijkt erop dat ze zich herpakt heeft. Big Brother geeft ondertussen wat complimentjes aan de dames, hij is vandaag erg spraakzaam. Na het toch wel heftige moment doet iedereen rustig aan. Zo hebben Nick en Michel in de sauna gelegen en zien we uiteindelijk iedereen samen eten. Het onderwerp Matt komt nog altijd veel aan bod. Na het eten wordt er gezongen voor het zoontje van Julie, hij is vijf jaar geworden. De kaarsjes op de taart worden uitgeblazen door Julie en iedereen krijgt een lekker stukje. Jill kijkt na het tandenpoetsen nog even onder de deur van de gameroom en ziet wel licht schijnen. Gaat Big Brother vandaag nog duidelijkheid geven?