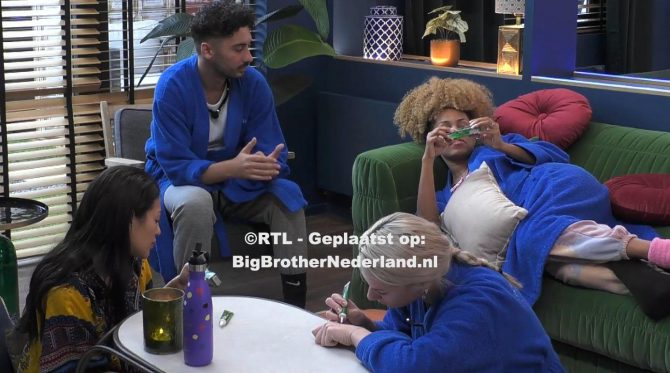 De bewoners beantwoorden kijkersvragen en Kristof suggereert dat hij misschien door Salar of Nawel genomineerd is
Salar, Kristof en Tobias sporten buiten wat in de tuin. Terwijl de mannen bezig zijn begint hij over het feit dat hij één van de genomineerden is. Hij vertelt dat hij denkt dat de kijkers dit besloten hebben. Maar suggereert ook dat Salar of Nawel dit gedaan hebben. Salar ontwijkt de vraag een beetje. Hij bevestigt het niet en zegt meerdere keren dat hij Kristof graag mag en hem als leider ziet. En voegt eraan toe dat hij minder goed contact met Sercan heeft.
Daarna eten de bewoners pannenkoeken en zien we de bewoners in tweetallen richting de dagboekkamer gaan. Al snel word duidelijk dat de bewoners kijkersvragen moeten beantwoorden. We kunnen dit niet op de livestream volgen. De beantwoording van deze vragen word waarschijnlijk gebruikt voor de tv uitzending. De reacties na terugkomst uit de dagboekkamer horen we wel. Er word van alles gevraagd, zo word er aan Sercan gevraagd of hij een klik heeft met Grace. En aan Vera wat ze van Tobias vind. Daarnaast beantwoorden de bewoners nog wat persoonlijke vragen zoals wat ze missen nu ze in het huis verblijven en iets over challenges.
Momenteel zijn de bewoners in de keuken bezig, word er wat gekletst en is een enkeling in de badkamer. Wat zal er vanavond gebeuren? Heeft Big Brother nog iets in petto voor de groep? We houden het in de gaten en komen terug zodra er weer nieuws is!