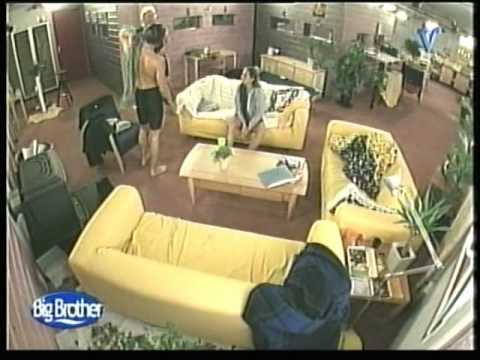 Vijf Big Brother gebeurtenissen waar we nog altijd van genieten
Big Brother bestaat al 20 jaar, in sommige landen wordt het nog altijd uitgezonden. In Nederland komt het programma ook terug, onbekend nog wanneer maar dat het er komt is één ding wat (zo goed als) zeker is. Om de tijd te doden hebben we alvast vijf gebeurtenissen uit de Nederlandse Big Brother op een rijtje gezet die we niet snel vergeten.
Bart en Sabine
In 1991 start het programma Big Brother en reality tv is op dat moment nog onbekend voor iedereen. Als bewoners Bart en Sabine met elkaar liggen te knuffelen en frunniken is heel het land in rep en roer. Wekenlang domineert het avontuurtje van de twee het nieuws. Tegenwoordig kijkt er niemand meer  van op.
Ruud
Ruud, die kandidaat is in de eerste reeks van Big Brother. Hij komt uit Breda en weet met zijn uitspraak effe knuffelen de harten van heel Nederland te veroveren. Maar ook de knappe Bart weet met zijn charmante voorkomen heel wat fans aan zich te binden. De finale van Big Brother 1 is dan spannend, gaat Ruud of toch Bart er met de hoofdprijs vandoor. Uiteindelijk is het Bart  tot groot verdriet van Brabant, die met de riante geldprijs naar huis gaat.
Big Brother baby
Het vierde seizoen van Big Brother was qua kijkcijfers niet zo'n groot succes te noemen. Er werd vervolgens van alles aan gedaan om Big Brother 5 spraakmakend te maken. Zo wordt de zwangere Tanja in het Big Brother huis geplaatst, wat opnieuw zorgt voor een storm aan media aandacht. Op 18 oktober 2005 bevalt Tan van dochtertje Jocelyn Savannah. De bevalling zorgt voor zoveel commotie dat Tanja besluit om een week na de bevalling al uit het Big Brother huis te verlaten.
Kelly
Andries is te zien in de derde serie van Big Brother. Hij ontpopt zich al gauw tot het boefje van de reeks. Zo belandt hij op een dronken avond in bed met de transseksuele Kelly. Andries heeft echter niets door en is dan ook verbijsterd wanneer Kelly hem the day after vertelt dat ze vroeger een man is geweest. Indertijd zorgt de bekentenis van Kelly voor heerlijk smeuïge maar soms ook lichtelijk gênante  televisie.
Zoenende mannen
In het laatste seizoen van Big Brother weet Etienne met zijn harde en lichtelijk vrouwonvriendelijke uitspraken heel wat kijkers te shockeren. De verbazing is dan ook groot wanneer de rokkenjager tijdens een feestje zoent met de homoseksuele Rik. Deze kus gaat dan al snel heel het internet over. Na de laatste uitzending op 27 november 2006 sterft het programma een stille dood. Maar in het buitenland weet Big Brother nog altijd miljoenen mensen te trekken. Gelukkig komt het programma weer terug in Nederland, nu maar hopen dat het weer een kijkcijferhit gaat worden!