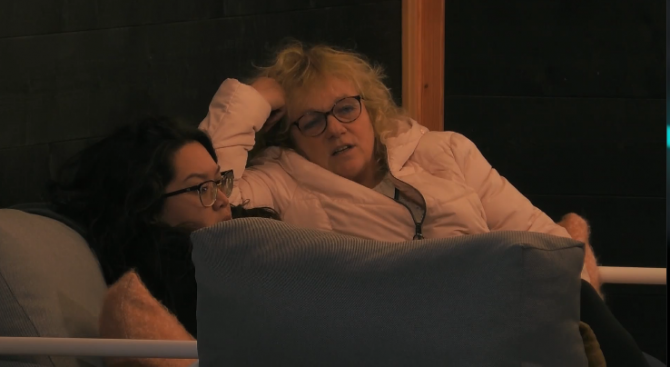 Els en Nathalie bedenken een plan om Belgen weg te krijgen uit Big Brother
Ook deze dag is vrij rustig verlopen. Na de opdracht van Nick is er niet heel bijzonders gebeurd. Buiten hebben Els en Nathalie een gesprek. Het gaat over de Belgen  en hoe ze proberen te complotten. De twee lijken het plan te hebben om een aantal Belgen eruit te werken.
Els gelooft niet dat Theo op haar gestemd zou hebben tijdens de afgelopen nominaties. Dat is Liese geweest reageert Nathalie. Geloof me voegt ze eraan toe. Els en Nathalie willen eigenlijk Nick eruit stemmen. Nu dat niet kan omdat hij huismeester is moet het Naomi worden aldus Els. Ik weet niet of de Nederlanders voor een Nederlander gaan stemmen, of voor een Belg. Kijk als je Liese er neer zet, gaat Rene dat niet winnen gaat Els verder. Liese moet je eigenlijk tegenover een Zoey neerzetten merkt Nathalie op. Of Nick zegt Els. Hij is ook een gladde speler. Als dit zo is, is zij een gladde speler benadrukt ze. Els laat uiteindelijk weten dat ze voor Naomi en Liese wil gaan. Die belgen moeten er gewoon uit benadrukt ze. Niet zozeer de Belgen, maar degenen die een vies spelletje spelen zegt Nathalie. Ja antwoordt Els want dat doen wij niet, Thomas ook niet. Ja, dat is wel echt bij Nick begonnen merkt Nathalie op. Els denkt dat als ze allemaal hetzelfde stemmen ze ook kunnen winnen. Ik ben ook benieuwd of Naomi dit allemaal trekt. Die kan er helemaal niet tegen, tegen nominaties en onenigheid.