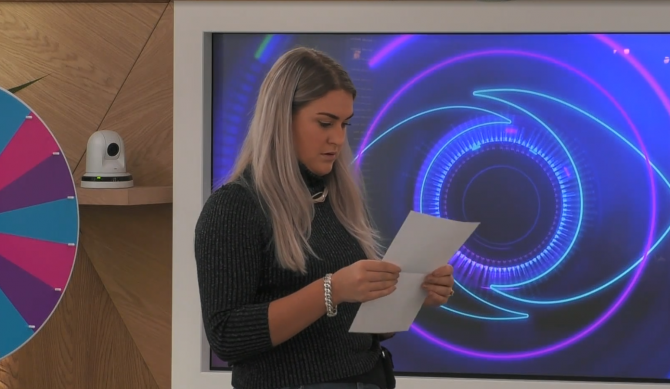 Big Brother heeft een spel voor de bewoners
Na het vertrek van Theo meldt de Big Brother stem zich zegt dat de voorraadkamer nu open is. Jowi komt met een tafel waarop dozen staan de woonkamer in. Time to play zegt hij. Er wordt van alles klaargezet en de Big Brother stem zegt dan dat ze de envelop moeten openen. Jill opent de brief en leest voor zichzelf alvast voor. Best wel leuk eigenlijk lacht ze. Als iedereen er is leest ze de brief voor. Bewoners, vandaag spelen jullie "doen, wijzen of de waarheid". Om de beurt draaien jullie aan het rad. Blauw staat voor doen, voer deze opdracht uit. Roze staat voor wijzen, wijs diegene aan waarvan jij het meest verwacht dat hij of zij dit zou doen. Paars staat voor waarheid, geef eerlijk antwoord op een vraag. Pak zonder te kijken een opdracht uit de doos welke overeenkomt met de kleur die je gedraaid hebt. Voer deze opdracht uit. Jullie hebben als groep 1 uur de tijd om minimaal 20 opdracht uit te voeren. Als je de opdracht niet uit wilt voeren mag je een joker inzetten. Jullie hebben als groep slechts drie jokers om in te zetten. Een joker wordt ingezet door een joker kaart te verscheuren. Als alle jokers ingezet zijn en jullie willen de opdracht niet doen verliezen jullie het spel en schakel ik het warme water in de douche voor 24 uur uit. Dit doe ik ook als het jullie niet lukt om 20 opdrachten uit te voeren binnen 1 uur.
Er worden persoonlijke vragen gesteld zoals wie heeft er een gat in zijn hand. iemand aanwijzen om te koken dat word Liese. Tien keer opdrukken, je beste dancemove laten zien, 10 seconden met je hoofd onder de koude douche, maak de groep aan het lachen. Een opdracht verzinnen, Nick moet onder de koude douche. En zo gaan de opdrachten nog even door. Uiteindelijk is het uur om en zegt Big Brother dat de voorraadkamer weer geopend is. De spullen worden weer opgeruimd en is het afwachten op de uitslag.