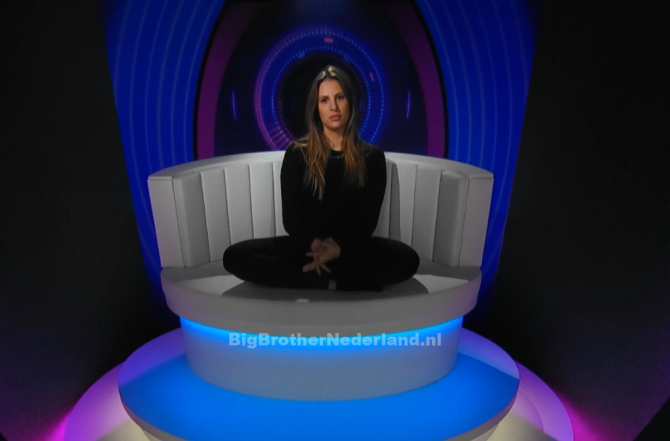 Els en Patrick zijn de genomineerden
De bewoners hebben gisteren hun stem mogen uitbrengen voor de nominatieronde. Welke bewoners zijn genomineerd? Dat lees je terug in dit bericht.
Michel neemt als eerste plaats in de dagboekkamer. Het is zijn eerste nominatie en dat doet hem veel. Het is moeilijker dan ik dacht. Ik nomineer Patrick omdat hij een aantal keer verkeerd uit de hoek is gekomen. De tweede is Daniëlle. Patrick nomineert Els en Naomi. Zoey nomineert Els en Nathalie omdat het een tactiek is. Ik wil hun genomineerd hebben om op die manier te voorkomen dat Julie en Patrick genomineerd worden. Nick nomineert Els en Nathalie. Els nomineert Patrick en Julie. Julie is niks mis mee maar die komt er net bij en ik moet ook tactisch spelen. En Patrick daar heb ik gewoon vanaf binnenkomst niets mee. Ik weet niet of hij speelt of niet speelt. Nathalie nomineert Patrick en Julie. Thomas brengt zijn eerste stem uit op Julie. Ik heb het gevoel dat zij mij voor een week bewust vermeden heeft. En niet van plan is om het spel met mij te spelen. Mijn tweede nominatiestem is voor Zoey. Ik wil graag van mensen om mij heen weten wat ze aan het doen zijn in het spel en dat is bij haar niet het geval. Ze heeft afstand genomen. Daniëlle nomineert Patrick en ik nomineer Julie. Naomi nomineert Els en Daniëlle. Liese is huismeester en kan niet genomineerd worden. Ik nomineer Els omdat ik vind dat ze zich te veel afzondert in de hottub. En de tweede is Daniëlle omdat ik vind dat ik bij haar niet mijzelf kan zijn. Julie vindt haar nominatie raar en heeft veel stress. Het voelt voor mij niet goed aan maar ik sta achter mijn eigen keuzes. Ik nomineer Els en Nathalie.
Dit betekend dat er een gelijkstand is. Big Brother roept huismeester Liese naar de dagboekkamer. Dit moment hebben we via de live stream niet meegekregen. Big Brother vertelt in de dagboekkamer aan Liese dat zij de beslissende stem heeft omdat ze huismeester is. Ze moet kiezen tussen Patrick en Julie. Liese laat weten dat ze Patrick als genomineerde wil en Julie veilig. Genoteerd zegt Big Brother, hou je keuze geheim benadrukt hij nog.
Els en Patrick zijn dus genomineerd, stemmen kan via onderstaande linkjes. Ben jij het met de uitslag eens?