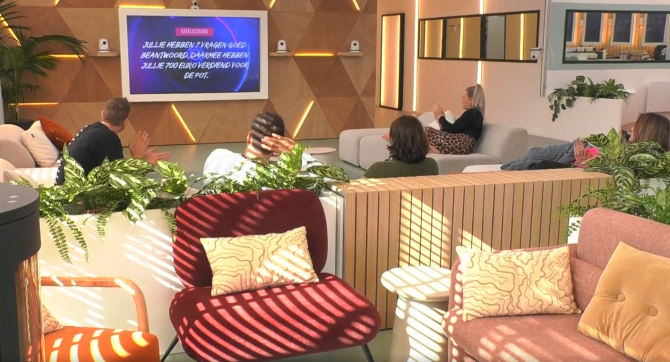 Big Brother laat oud huisgenoten een verhaal voorlezen, de groep moet er een opdracht mee doen
Er zijn allemaal rare geluiden te horen in het huis. Klop geluiden, gehijg, ook oud bewoners zeggen wat zinnetjes zoals ik wil koffie, zo is het spel jongens, If i tell you that i love you, joh mannekes onthou alles, hey Jill, dag maat, roll the clips b*tch, heel goed, Kom hier. Big Brother spreekt daarna de bewoners toe. Bewoners, zoals jullie hebben gemerkt ben ik vandaag niet alleen. Jullie voormalige huisgenoten willen jullie een verhaal voorlezen. Luister goed, heel goed. Jullie zullen deze informatie later nodig hebben… De bewoners blijven stil en wachten op wat komen gaat. Thomas zegt als eerste "kom hier". De bewoners rennen naar de locatie waar het vandaan komt, dat is de badkamer. Zoey zegt dan onthou alles, René zegt ook nog een keer onthou alles wat ik zeg. In de badkamer leest Ziko iets voor: Er waren eens zes prachtige mensen, met ieder hun eigen persoonlijkheid en karakter. Zij reisde de wereld rond op zoek naar avontuur. Tot ze opeens elkaar tegen kwamen, nooit hadden ze gedacht zulke hechte vrienden te worden. Alle zes leidde tot voor kort nog hun eigen leven. En ze hebben elkaar nog nooit ontmoet. Ze woonden verspreid over heel de wereld. 
Daarna zegt oud bewoner Els dat ze even in de hottub gaat. De bewoners rennen naar de hottub. Daar aangekomen vertelt René een verhaaltje. Wat is dit voor een tekst jongens reageert de groep lachend. Daarna zegt Mike oei oei oei, en Thomas onthoud goed wat ik zeg, en Patrick onthoudt alles. Dit was wel een lastige merkt Michel op. Dan zegt Thomas kom hier, en kapot grappig. De bewoners arriveren in hun slaapkamer. Daar zegt Els nog eens let goed op. En leest het verhaal verder voor. De bewoners proberen alles goed te onthouden, en pikken steeds belangrijke woorden uit. Oud bewoner Els benadrukt nogmaals dat ze alles moeten onthouden en niks op mogen schrijven. Waar zijn mijn palletjes zegt oud bewoner Jerrel dan. De bewoners gaan naar de volgende locatie. Dat is bij de kledingkasten. Daar vertelt Patrick het verhaal verder. De bewoners wachten op de volgende bewoner die zich meld. Els zegt dat ze koffie wilt en de bewoners gaan naar de keuken. Thomas leest het verhaal verder voor. De bewoners gaan dan op het geluid van oud bewoner Zoey en Jerrel af. Dat is buiten onder de veranda. Zoey vertelt het verhaal verder. De bewoners gaan weer naar de volgende locatie en dat is de andere slaapkamer. Daar vertelt Jerrel het verhaal verder.  De bewoners blijven in de slaapkamer en herhalen de belangrijkste steekwoorden van de verhaaltjes. Ze gaan op de bank zitten maar worden terug gelokt naar de dagboekkamer. Wat daar gebeurd horen we niet. Als de bewoners terug zijn worden de bewoners gelokt naar de toilet. Matt vertelt daar weer wat. Big Brother roept daarna dat iedereen naar de woonkamer moet komen. Hoe was het om jullie vrienden weer te horen? vraagt hij. Leuk antwoord iedereen. Big Brother zegt dat hun vrienden hun best gedaan hebben om de verhalen zo goed mogelijk te vertellen. Ik ga jullie 10 vragen stellen. Voor elke vraag die jullie goed beantwoorden verdienen jullie 100 euro. Big Brother stelt de groep daarna vragen. De bewoners weten 7 vragen goed te beantwoorden. En hebben daarmee 700 euro verdiend voor de prijzenpot. De groep klapt en is blij dat ze de pot een beetje hebben bijgevuld. Goed gedaan zegt Big Brother nog.