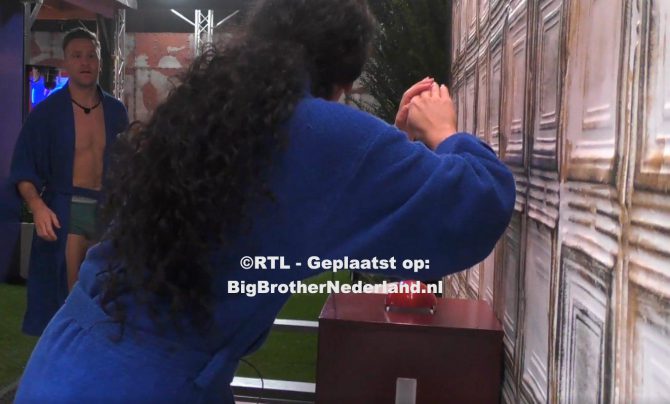 Big Brother start de suprise week
De liveshow zit erop, de bewoners praten na over het vertrek van Kitty. Grotendeels zijn ze erover eens dat het beter is voor de groep. Nouchine heeft het er erg moeilijk mee. En praat erover met Grace Vera en Nawel. Peter is blij dat hij mag blijven en gaat zijn koffer uitpakken nadat hij een gek dansje met de groep gedaan heeft. Ondertussen luisteren een aantal bewoners bij de voorraadkamer of er misschien toch nog iets komt qua lekkernijen. Dan gaat de voorraadkamer open maar helaas. Er staan wat basic producten die elke week aangevuld worden. Salar besluit op de plek van Kitty te gaan liggen en uiteindelijk gaat iedereen zich klaarmaken om te slapen.
Maar dan is er een spannend muziekje te horen, de groep rent naar de woonkamer. Big Brother laat weten dat het suprise week is. Een sirene klinkt en de bewoners rennen naar de rode knop om erop te drukken. Big Brother laat weten dat er op de rode knop gedrukt moet worden. Er volgt dan een aangename of onaangename verrassing. Eveline drukt op de rode knop maar er gebeurd verder niets.
Bepaal wat er achter de rode knop mag zitten
Wat mag er achter de rode knop zitten? Word het 30 minuten extra warm water, een bewoner die zijn/haar koffer terugkrijgt of één bewoner die immuniteit krijgt? Stemmen doe je via deze links: