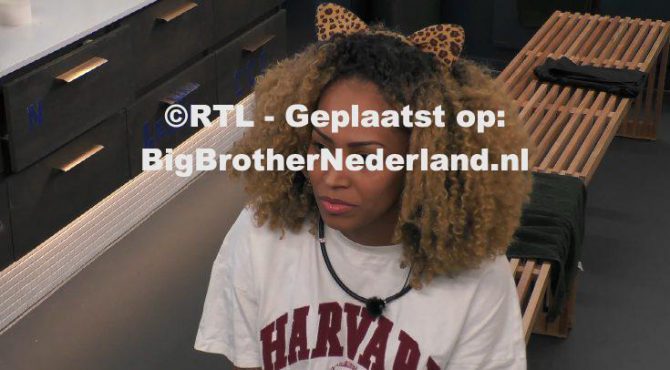 Tobias en Grace hebben toch geen gevoel voor elkaar?
Afgelopen avond hebben Grace en Tobias een gesprek gehad. De twee hebben het weer over hun vriendschap.  Tobias geeft duidelijk aan dat hij het prima vindt zoals het nu is en dat hij in het huis niet meer wil. Wat later in de badkamer praat Tobias met Vera over dit gesprek. Tobias vertelt dat hij zijn vriendschap met Grace niet op het spel wil zetten. En stelt daarna de vraag als Dimitri er niet was geweest hoe had jij dan naar onze vriendschap gekeken? Had er meer in gezeten? Als Dimi er niet was geweest was het misschien anders geweest antwoordt Vera. Tobias zegt dat hij het lastig vindt om een vriendschap met een vrouw op te bouwen. En baalt dat Grace meer wil, hij wil alleen vriendschap en nu lijkt het meer te worden. Hij voegt eraan toe dat Grace met iedereen flirt en dus ook met hem en zocht daar verder niks achter, leek een leuke vriendschap en nu wil ze meer dan hij. Waarom gebeurd dit bij mij en kan ik niet gewoon vrienden zijn met vrouwen. Of jullie worden super verliefd óf jij gaat uiteindelijk haar hart breken reageert Vera. Ik ben bang voor het laatste antwoordt Tobias.
Inmiddels is een nieuwe dag aangebroken en Grace vertelt aan Nawel over het gesprek met Tobias. Op een vraag van Nawel laat ze weten dat ze sowieso nog met haar friend with benefits thuis moet gaan praten. En dat ze ook wel soms aan hem denkt. Hier in dat huis is dat zo raar he antwoordt Nawel. Omdat niks meer echt lijkt. Zelfs je gevoelens gaan on hold, of dat ook niet echt maar ik denk ook veel minder aan. Later zien we Grace en Vera in de badkamer, ook daar gaat het weer over Tobias. Alles wordt nog eens besproken en Grace zegt dan dat ze niet verliefd is op Tobias. Ik vind hem leuk maar dat het niet het gevoel is wat Vera voor Dimi heeft.  Ze voegt eraan toe dat ze het gevoel niet heeft voor haar huidige, soort van relatie. Ik ben raar eindigt ze het gesprek.