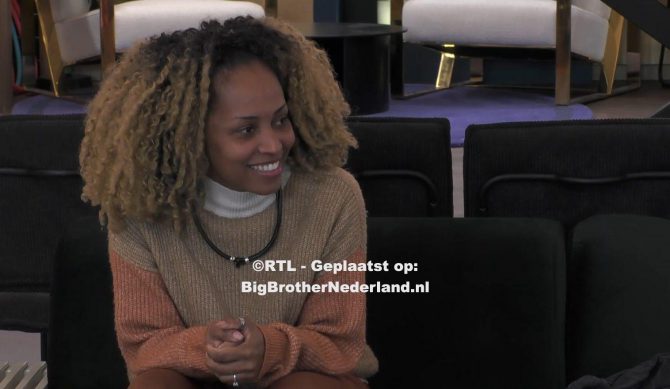 Grace, Salar en Nawel vertellen over hun filmpjes van hun geliefden
Grace, Salar en Nawel mochten strijden voor een videoboodschap van geliefden. Dit gebeurde in de gameroom buiten beeld. Uiteindelijk komen ze terug en vertelt Grace wat het was. Volgens haar was het mooi maar ook f*cked up. We kwamen binnen en daar stond een statafel. Er stond een kleine witte zandloper en drie borden. Salar en ik moesten op afstand van de tafel staan. En Nawel in het midden dus ietsje dichterbij de tafel. De challenge was dat er inderdaad boodschappen werden afgespeeld voor ons, op drie schermen achter ons. We mochten kiezen of we moesten tellen en dan hoorde je alleen je familie, of we konden kijken maar daarmee verdiende je niks. Het was duizend euro per video, als je besloot te kijken kon je niets verdienen.
Grace vertelt dat ze is omgedraaid, het was haar moeder en die duizend was het mij niet waard. Dus ik heb mijn moeder gezien, ze ziet er goed uit maar nog wel een beetje ziekjes. Beter dan de vorige video, ik zag wel dat ze moe was. Salar is ook omgedraaid, hij heeft zijn moeder gezien. Ik moest echt keihard huilen, ze zei dat ik het goed doe. Dat er leuke dingen over mij rondgaan, maar op een gegeven moment hoorde ik ook niks meer door het huilen. Het was heftig maar dit was geen euro waard. We hadden het al een beetje besproken met zijn allen op voorhand. Nawel is niet omgedraaid, ze heeft geteld. Het was mijn zus, ze zei dat ik niet op moest geven. Ik heb alleen veel niet gehoord omdat ik anders de tel kwijt zou raken. Ik zat 90 seconden fout dus we hebben wel 910 euro verdiend. De groep praat nog even over na en iedereen is blij voor elkaar.