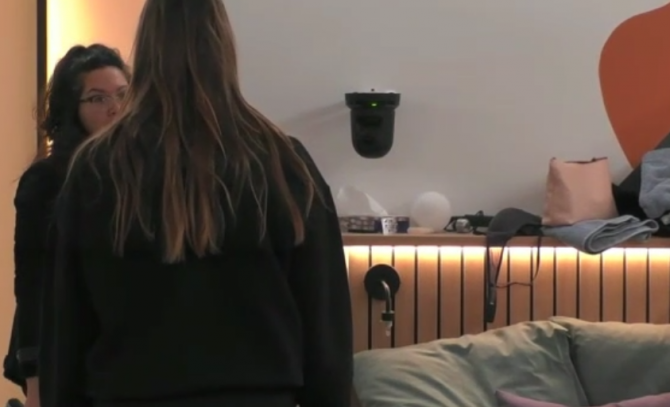 Nathalie krijgt een sanctie omdat ze haar bed niet netjes opgemaakt heeft
Een nieuwe dag in Big Brother is alweer even aan de gang. Het is vrij rustig in het huis. De bewoners zijn gewekt met het Big Brother lied zoals huismeester Liese bepaald heeft. Blijkbaar zijn haar regels nu al van kracht. Verder heeft iedereen ochtendgymnastiek gedaan en daarna zien we een enkeling druk met de kledingkeuze voor vanavond, dan schijnt er een bonte avond te zijn.
Liese loopt een rondje door de slaapkamers en merkt op dat er een bed niet is opgemaakt. Ze gaat naar Julie en vraagt haar of de bedden opgemaakt zijn of het beter moet. Julie bevestigd dat de bedden op zijn gemaakt. Liese moest verschillende bedden controleren en spreekt enkele bewoners erop aan. Nathalie heeft blijkbaar haar bed niet opgemaakt en is bezig dit alsnog te doen. Moet het nog strakker dan dit, wat een gezeik hier zucht Nathalie. Ik moet als huismeester mijn regels wel opvolgen merkt Liese op. Ik ga geen straf krijgen toch vraagt Nathalie. In de huttub een klein plonsje zegt Liese. Ik ga dat echt niet doen benadrukt Nathalie. Hij was opgemaakt! Hij was dichtgegooid verbetert Liese haar. Ik ga het niet doen herhaalt Nathalie nog eens, hij was opgemaakt. Oke zegt Liese maar eigenlijk zijn de regels, bed niet goed opgemaakt een plonsje in de hottub. Er ontstaat vervolgens een discussie of het bed opgemaakt was. Volgens Nathalie is er niet gezegd dat het strak opgemaakt moet zijn. De volgende keer ga ik het strak strak opmaken. Liese zegt dat het de regels zijn. En Nathalie blijft klagen, moet ik er helemaal in? Kopje onder, dus helemaal antwoordt Liese. Ik bedoel het niet slecht naar iemand toe maar ik moest van Big Brother controleren. Nathalie loopt klagend de douche in om zich om te kleden. Ze snapt niet waarop het gebaseerd is, die van Patrick is ook niet mooi opgemaakt voegt ze eraan toe. Ze gaat toch nog eens kijken en ziet verschillende bedden die niet netjes opgemaakt zijn. Naar haar mening zijn er verschillende bedden niet opgemaakt maar gaat mopperend de hottub in. Deze is nog vrij warm. Els maakt uiteindelijk de hottub ook aan en gaat erbij zitten.