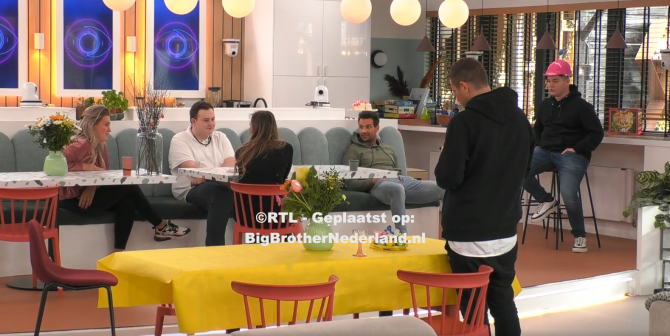 Oud bewoner Matt arriveert na een korte live stream onderbreking in het Big Brother huis
De bewoners en oud bewoners doen een toernooitje. Een van de huisregels die gisteren bekend zijn gemaakt. Nick heeft een toernooi petanque verzonnen,  met behulp van kaartjes trekken worden teams samengesteld. Terwijl ze bezig zijn zegt Big Brother dat iedereen naar de woonkamer moet komen. Op het scherm staat dat Jill haar regel nu ingaat. Dit betekend dat de bewoners één uur lang geen ja of nee mogen zeggen. De bewoners gaan verder met petanque, Nick verspreekt zich al snel, gevolgd door Michel en Liese. Wat dus betekend dat de bewoners polonaise moeten doen. Na een korte onderbreking van de competitie zitten de bewoners binnen wat te kletsen, uiteindelijk verspringt het beeld en is er enige tijd niets te zien.
Als er weer beeld is zien we oud bewoner Matt met een bouwhelm op zijn hoofd, herkenbaar van een eerdere opdracht. Waarschijnlijk is hij uit de gameroom gekomen. We horen Matt uitleggen waarom hij 15.000 euro uit de prijzenpot heeft gepakt. Hij schatte de kans klein in, het zou drie dagen blijven zijn of het geld pakken. Nick laat weten dat hij het snapt en Matt vertelt dat hij de streams gevolgd heeft. Hij zag vanmorgen Thomas en Naomi nog binnen komen. Hij heeft een appje gekregen of hij ook het huis in wilde. Lachend voegt hij eraan toe dat hij wel zeker wilde zijn dat zijn 15.000 euro niet ingeleverd moest worden. Daarna geeft hij nog de groetjes door aan Liese, hij heeft contact met haar familie gehad. Hij vindt het raar om weer terug te zijn, ik had het al een beetje afgesloten. Matt kan 1000 euro voor de groep verdienen als het ei niet van zijn helm afvalt. Hoe lang dit precies moet zijn is onbekend, we hebben 1.5 uur gehoord… Michel benadrukt daarna nog eens dat ze niet boos op hem zijn. Als je de beelden terug ziet dan zie je dat ik heb lopen wenen als een gek reageert Matt. Ik ben een soort van vieze winnaar. Verder laat hij weten dat er geen commentaar is geweest op zijn actie. En heeft zelfs al boekingen mogen ontvangen.Verder is Matt bezig met afvallen en dat valt de rest van de groep ook op. Hij moest in een hotel zitten, 5 dagen en uiteraard een coronatest doen.
Lees hier meer over de terugkomst van andere oud bewoners:
Oud bewoner Thomas arriveert in het huis
Oud bewoner Naomi arriveert in het huis